We don't have to let this happen!

---
---
Now That You Have Destroyed Our Country, Withdrawing Is Not Enough
Open Letter President Barak Obama from Iraqi Union Leader
Read More »
". . . . until the proper people pay the proper recompense for what they did to this country, to that country, and to the world - the Iraq War is not over. . . ."
Read More »
---
Congresswoman Barbara Lee Speaks out Against the National Defense Authorization Act
---
59% for the military, 2% for Justice
Military contractors laughing all the way to the bank

Your Tax Dollars At War
Militarism is stealing the future from ordinary Americans
OCCUPY TOGETHER
---
American Military Deaths in Afghanistan, and the Communities from Which These Soldiers, Sailors, Airmen, and Marines Came
7 Biggest Lies About the Economy
You Need to Know
---
Bridges Not Bombs
The Inequality Bomb
As Poverty Spreads, 28% of Americans Who Were Part of the Middle Class Have Fallen Out of It
Middle-Class Americans Often Fall Down Economic Ladder: Study – nearly a third of Americans who were part of the middle class have fallen out of it
According to a study, ". . . . nearly a third of Americans who were part of the middle class as teenagers in the 1970s have fallen out of it as adults. . . ."

". . . . a record number of Americans are living in poverty... the median male is now worse on a gross, inflation adjusted basis, than he was in… 1968!"

". . . . We can estimate that at least 56 million Americans, roughly 18.5% of the population, lived in poverty in 2010. . . . The richest 400 Americans have as much wealth as 154 million Americans combined, that's 50% of the entire country. . . ."
---
Present Afghan Policy Breeds Resistance
The increase of foreign troops in Afghanistan that has taken place during Obama's administration has been followed by a corresponding increase in Afghan insurgency. "The US needs to let go of the military strategy and instead get serious about negotiations with the Taliban," said Derrick Crowe. "Throwing hundreds of thousands of troops and $2 billion a week at that problem... is just going to escalate the problem."
---
War Profiteers Escalate Their War on Jobs - FIGHT BACK!
Alternative Methods for
Dealing with Terrorist Groups
MILESTONE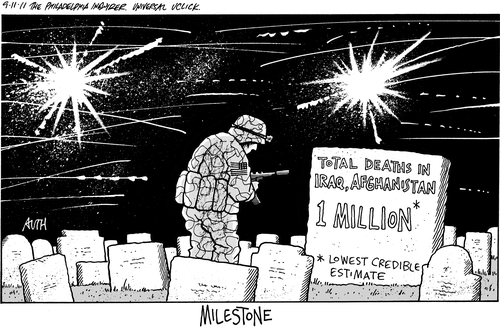 Let this MOMENT of SILENCE honor all who have died

---
10 Years After 9/11 -
The Dollars and Sense of War
AFL-CIO Tells Obama and Congress to End the Wars and Invest in America to Create Jobs
Executive Council issues strong statement following meeting with the President
". . . .There is no way to fund what we must do as a nation without bringing our troops home from Iraq and Afghanistan. The militarization of our foreign policy has proven to be a costly mistake. It is time to invest at home. . . ."
Read More »
---
"....Two lengthy and expensive wars should not force billions of dollars in cuts to Medicaid, shifting costs to states and ultimately children, vulnerable seniors and people with disabilities...."
Gerald McEntee, President, AFSCME

MORE
---
Rapid Withdrawal???
Some media herald the Obama plan to draw down troops in Afghanistan (33,000 between now and September, 2012) as "rapid withdrawal" or a "significant" reduction. But in fact, a reduction of 33,000 still leaves twice as many US. troops in Afghanistan as when Obama took office. MORE. . . .
---
---
Why Should Taxpayers Pay Military Contractors to Lobby for More Contracts?
Read More »